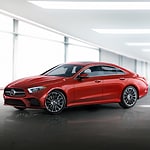 The 2022 Mercedes-Benz CLS delivers impressive performance features for Fort Wayne residents. The car prioritizes comfort over sportiness. However, it offers decent acceleration giving you plenty of passing power. At Mercedes-Benz of Fort Wayne, we would like you to know about the performance features the vehicle has to offer.
The only car in the 2022 CLS class, the 2022 Mercedes-Benz CLS 450, uses a 3L inline-six engine that is turbocharged. There is also a 48-volt hybrid assist system (EQ Boost) available, which offers more torque at low speeds. The EQ Boost helps to conserve fuel and boost acceleration.
The car produces 362 horsepower and reaches 60 mph in 4.6 seconds. The transmission here is a 9-speed automatic, and the drivetrain is all-wheel drive.
The 2022 Mercedes-Benz CLS 450 is suitable for long-distance driving and offers a smooth and calm ride, even on uneven road surfaces. The car also remains stable while negotiating tight turns. The brakes are also sturdy, making the vehicle easy to stop quickly when necessary.