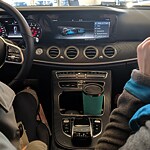 Everything about the Mercedes-Benz E 300 Sedan is premium and upscale, so the multimedia features of this model inevitably follow suit. This sedan series incorporates the best multimedia attributes to keep passengers entertained on both short commutes and long drives. One of the ways the Mercedes-Benz E 300 Sedan accomplishes this is through to modification and upgrades that are available for its standard infotainment system and stereo setup.
The Mercedes-Benz E 300 sedan series takes entertainment to the next level with a 12.3-inch infotainment screen display that sprawls across the front dash. This touchscreen system is located in the center console region and also features a 12-3-inch digital instrument cluster. Complete with the Mercedes-Benz User Experience (MBUX), this system is paired with an innovation voice-control system.
Taking its innovation a step further, the Mercedes-Benz E 300 sedan also incorporated modern functionality, like Interior Assistant and Augmented Video for Navigation. By monitoring driver movement and hand movements, Interior Assistant capabilities are some of the most intuitive in any luxury vehicle on the market.