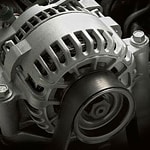 Your alternator is among the most important elements of your vehicle. It charges the battery and other electronic equipment within the car. Without the battery and other electronics, the vehicle cannot move anywhere. That is the bottom line of it all.
Maintaining the alternator is critical to maintaining a healthy vehicle in general. You can think of this part as being a generator of sorts. It provides a steady flow of power to the parts of the vehicle that require it. Thus, you can always count on your battery and electronics working whenever you go out to your car to start it up.
A warning light will typically appear on the dash of your car if the alternator is starting to go bad. You may also ask a mechanic to check on this for you the next time you bring the vehicle in for routine maintenance. Sometimes it is best to double check on things before they become a bigger issue.