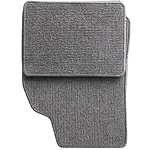 Accessories like floor mats are a big part of what makes you vehicle look good and remain in good condition, and our team at Mercedes-Benz of Fort Wayne wants you to be informed on the best way to maintain your vehicle and keep it looking good and lasting a long time. How do you know if carpet mats or rubber mats are best for your vehicle? Here are some tips.
Rubber floor mats may work best if:
• You have animals coming and going from your vehicle.
• You live in an area with lots of snow, rain or sand.
• Your passengers always seem to have dirty feet.
Carpet floor mats may work best if:
• You want floor mats that match the vehicle's interior.
• Your vehicle doesn't get that dirty.
• You drive a luxury vehicle.
• You want to customize your mats.
Although floor mats may seem like a small accessory, getting the right kind of floor mats can be important. Come to our dealership in Fort Wayne when you're in need of car mats or any other kind of automotive accessory.